Knights And Brides
Approved for Ages 6+
Knights and Brides - play with knights and princesses!
Knights and Brides is a cool adventure game in which you can build your own kingdom as a charming prince or shrewd princess and lead it to new heights under your rule.
Let yourself be inspired by the mixture of social game and strategy game and expand your inheritance more and more. On your 16th birthday, you ascend the throne and are soon actively supported by your friends, the magical gnomes. Together with other knights and princesses, you can master the tasks ahead of you even better, but the one or other duel also adds to the spice of the game.
Experience a lot of adventure, great teamwork and exciting battles for the best resources and play Knights and Brides free online on Kibagames!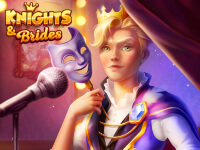 Knights And Brides
Originalname:
Game Hits:
848
Online since:
01.
09. 2021
Developer: