RoyalDice
Approved for Ages 16+
RoyalDice - dice your way to a new high score!
RoyalDice is a cool dice game in which you can roll the dice in multiplayer mode with other players for the highest score!
 
Play online against players from all over the world and let the dice roll. Your goal is to have the best possible point combinations and more total points than your opponent after 13 rolls.
Just log in with your Azerion Connect account to save your score or try it out as a guest. In this case you will have to start over the next time and your score will not be saved.
How to play RoyalDice
Roll five dice on each turn and choose the appropriate combinations to record on your score card.
The player with the highest score wins after 13 rounds.
If you are playing in threes, the winner in RoyalDice is determined after 39 rounds.
You may roll the dice up to three times in each round. Then decide on the best dice combinations.
If you manage to reach 63 or more points in the upper card area, you will receive 35 extra points.
Get a puzzle bonus if all the dice have the same number.
Use helpers like the Bonus Helper, the Card Filler and the Dice Helper that show you the best combos and sort your dice.
With your winnings you can buy new dice and dice cups. Regular rewards and the Wheel of Fortune also quickly add new money to your cash register!
Tips and tricks - take part in events and tournaments
Community is very important here, because it's still best to play together!  So play the club and meet friends there to play RoyalDice together.
In tournaments you can compete against all players in the room and win lots of extra credits if you make it to the top four.
And that's not all: in RoyalDice, in addition to the classic game, there is also the popular party mode, where you can play for the party pot.
Also, take part in exciting events like SuperBingo Jackpots, Bingo Millionaire and Golden Ball and don't miss the chance to win additional prizes!
More free browser games for gamblers
If you liked RoyalDice, why not also play GamePoint Bingo and 5 Dice Duel.
Are you ready for a lot of fun and competition at the dice table? Then don't miss this new browser game and play RoyalDice online for free on Kibagames!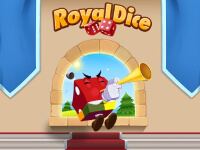 RoyalDice
Originalname:
Game Hits:
112
Online since:
08.
11. 2021
Developer: