League Of Angels: Heaven's Fury
Approved for Ages 12+
| | | |
| --- | --- | --- |
| Please note: The game is only available as a free download version. You have to download and install it in order to play. | | |
League Of Angels: Heaven's Fury - plunge into heavenly battles!
League Of Angels: Heaven's Fury is an action-packed 3D online MMORPG, in which you'll be able to join forces with celestial beings to fight against mythological opponents in epic battles.
The mighty gods have fallen prey to corruption, and now it's up to you to gather the legendary angels in this fantastic world and make them your allies. Nothing less than the fate of Heaven is at stake in League Of Angels: Heaven's Fury!
Choose a hero or heroine and fight with him or her in epic battles against the darkness. The dragoon, mage or archer have powerful abilities that you can improve individually. A lot of action awaits you in the real-time battles - if that's too much for you, you can simply switch on auto-battle mode, sit back and relax, and watch the action in peace.
How to play League Of Angels: Heaven's Fury
Build a powerful group of angels and pit them against sinister forces. League Of Angels: Heaven's Fury takes place in real time and can also be played cross-server against other players worldwide. You can download the game for free.
Equip your characters with magical tools, weapons and abilities. 
Fight PvP (Player vs. Player) or PvE (Player vs. Environment), go into battle with your guild against other guilds or take part in epic raids as part of an alliance. 
Master numerous additional quests. 
Don't miss out on the regular events.
Can you lead the alliance of angels back to its former strength and even stand up to a world boss? Then grab your burning sword now and download League Of Angels: Heaven's Fury for free on KibaGames!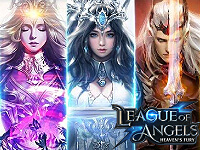 League Of Angels: Heaven's Fury
Originalname:
Game Hits:
99
Online since:
18.
10. 2021
Developer: