GamePoint Bingo
Approved for Ages 16+
GamePoint Bingo - quickly mark the right numbers!    
GamePoint Bingo is an exciting browsergame where you can fill in your bingo cards online and compete against real players.    
Playing bingo online has never been easier: start with 200 coins and trust that the balls will roll in your favor. In this virtual bingo hall, you can grab the marker yourself during the draws and mark your numbers or join in the fun and use the auto-fill function.    
Simply click on the room map in the upper right corner and choose your game location. You can't win real money in GamePoint Bingo, but in-game purchases are possible in the store. Now wait until your round starts and all players have bought cards. While waiting, spin the wheel of fortune, which will cost you one coin, but will quickly bring you 5 coins or more.    
And off you go! Quickly fill your cards with the numbers drawn and win coins and experience points. Join the bingo party, win great trophies and experience points, collect regular gifts for particularly dedicated bingo aces, and chat with your fellow players.    
Whether you're working on a new high score, making friends with other bingo maniacs, or just looking to pass the time, everyone is welcome in GamePoint Bingo, whether you're a beginner or a pro!    
How to play GamePoint Bingo    
To put your cards into play, you will first join an automatic or manual room. In a manual room, you can click the drawn numbers on the game card yourself. In the automatic room, the numbers are marked directly by the bingo game itself.   
Buy your playing cards, hope for good numbers and choose your favorite marker.  
While the numbers are drawn randomly, you have to react extra fast. Click on the numbers on your cards that are drawn and complete a horizontal or vertical line or one of the two diagonal lines, the pattern shown or the whole card in front of your fellow players to win a prize.  
How much money you win for which line and whether it is still possible in your game round can be seen in the top left corner.  
Then reinvest your money in new cards and earn more and more prize money, daily gifts and bonuses via special points that you can get by collecting objects like cats, handbags or t-shirts. Check out the bingo collection for that.    
Tips and tricks - discover cool features    
Take the opportunity to win more pots in this addictive bingo game:  
 Play "extra cards" in the room with extra tickets or extra fast bingo balls, which can be recognized by the stopwatch symbol.  
Also take part in the Super Bingo round, which promises especially high winnings.    
More free brain games for lucky players    
If you like Gamepoint Bingo, then play Rummikub and Governor of Poker 3.    
Are you lucky in bingo online games? Find out and play GamePoint Bingo online for free at Kibagames!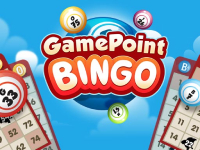 GamePoint Bingo
Originalname:
Game Hits:
123
Online since:
01.
09. 2021
Developer: