Fairyland: Merge & Magic
Approved for Ages 6+
| | | |
| --- | --- | --- |
| Please note: For this game you need a free Azerion Connect account, which saves your game progress. | | |
Fairyland: Merge & Magic - merge your way through a fairytale world!
Fairyland: Merge & Magic is an enchanting merge game in which you'll be able to accompany fairy Violet on her adventures through a fairyland.
Violet wants to pass the entrance exam to the fairy guild and for this she must not only dispel the fog that has settled over the fairy forest, but also complete a lot of other quests. Countless new lands are waiting to be revealed and discovered! The fairy godmother will be at your side to help you and will show you and the fairy how to use the merge magic properly.
Note: To play Fairyland: Merge and Magic, you need a free Azerion account. This will also save your score.
How to play Fairyland: Merge & Magic
Use your mouse or finger to connect new cookies and other resources on the playing field and build more and more valuable magic objects. With these you can then clear the fog on the neighboring fields and unlock new levels.
For example, three or more cookies become gingerbread houses.
Merging five cookies earns you a bonus cookie.
Marshmallows earn you golden keys.
Coins, diamonds and energy are needed to open cookie jars or other containers and harvest grapes or other fruits.
Other raw materials include mouse bacon, bananas or even lollipops and chocolate.
They all come from various sources such as the aforementioned cookie jars, but also flower pots, porcelain containers or baskets with mushrooms or fruit.
Various treasure chests also hold surprises.
Tips and tricks - find magical creatures!
With all the treasures, sweets and fruits you can build and explore a whole kingdom! And the crowns you'll find also have a very special purpose:
Find Christian, a prince from the neighboring country who probably needs your help!
Then go in search of other interesting characters and in higher levels even merge dragons, unicorns, goblins or other fantastic animals on the dragon farm!
Check out the spellbook to keep track of your quests, and also pick up your rewards for good performance there regularly. You can find the quests in the top left corner under the level meter. Fantastic adventures full of magic and a huge area with countless levels await you!
More exciting Merge Games from CleverApps
If you liked Fairyland: Merge & Magic, why don't you also play The Mergest Kingdom and Tropical Merge?
Now wave your magic wand again and play Fairyland: Merge & Magic online for free on KibaGames! Just play without downloading!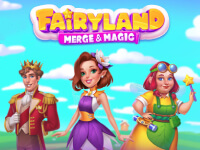 Fairyland: Merge & Magic
Originalname:
Game Hits:
0
Online since:
08.
11. 2022
Developer: