Klondike
Approved for Ages 6+
Klondike - feel the gold fever!    
Klondike is an exciting browsergame in which you can make a successful career as a gold miner in the rugged north of the American continent.   
This hit game takes you to the Klondike River, the famous river where the American gold rush once peaked around 1896, providing material and inspiration for numerous legends and stories.    
Work your way up from a simple gold prospector to a millionaire and expand your influence in the game through clever management, trade and tricky decisions. Get to know the locals, go prospecting for gold and mineral resources, and uncover the secrets that treasure hunters are trying to keep in the Alaskan-Canadian borderlands.    
Are you ready for a treasure hunt in the vastness of the American North? Then get going and head to the Yukon Territory! Your first gold nugget is waiting for you!    
How to play Klondike    
Klondike is a classic management game, which knows how to captivate players with many extras and a portion of adventure. Follow in the footsteps of your missing father and start from the place where he was last seen. Together with your new friends, first create the conditions for your new life:    
Acquire food or grow it yourself - the search for gold makes you quite hungry.
Take care of your animals and the vegetable garden.  Expand your house and the sawmill and produce wood and stones there.
Complete numerous other quests and tasks so that you can soon produce equipment for the first expedition.
Then you can start searching for the next gold vein. And who knows, maybe you will meet your father after all and together with him you can claim the valuable mineral resources of the Klondike River. Don't miss out on your claim!    
Tips and tricks for a successful treasure hunt    
In Klondike you will encounter many exciting challenges that require a good strategy, a bit of luck and a good energy supply.    
In your search for resources and fulfillment of tasks, don't miss the treasures that you can pick up from time to time along the way.
Keep in mind that while your activities earn you experience points and usually resources, they also cost you energy, which must be regenerated once you've used it up.
You can collect energy, for example, by removing trees and stones with the largest possible holes, which, by the way, you can also dig during visits to friends.
You can also recharge your energy in the bakery - who can resist the delicious croissants?
Reaching a new level in Klondike additionally increases your maximum energy supply. That is, the higher you climb, the more power you can store.    
More free multiplayer games with fantastic worlds   
If you like Klondike, why not play Farmerama and Goodgame Empire and dive into more fantastic worlds full of adventures. 
Let's go - grab your gold-digging gear and head to the Wild West! Play Klondike for free on Kibagames and find your gold treasure!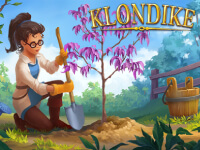 Klondike
Originalname:
Game Hits:
1.652
Online since:
01.
09. 2021
Developer: