Royal Society
Approved for all ages
Royal Society - Renovate your new farm!
Royal Society is an exciting farm game in which you'll be able to renovate and manage an old farm.
Through a letter from a relative you have come to an old farm called Willow Hills, which you now have to manage with the mouse or by tapping. Plant seeds, harvest grains and other crops and take care of the cattle. Gradually you can also construct buildings on your farm, which you need for further production. Flour must be ground in the mill and milk must be processed into cheese in the dairy.
Villagers will give you orders, which you can implement for money. You can also fulfill the orders of your relative, who will help you get started in farming to make you a real farmer or farmer's wife. Maybe you'll also find out why you suddenly ended up on this farm in the first place? Does this farming game even hold a family secret?
More exciting farm games for PC and smartphone
If you like Royal Society, then play Farm Fun and merge cute animals.
Now head to the barn or the fields! Grab your rubber boots and play Royal Society online for free on KibaGames!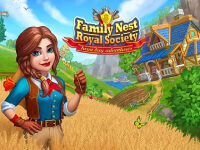 Royal Society
Originalname:
Game Hits:
0
Online since:
07.
04. 2023
Developer: