Royal Story
Approved for Ages 6+
Royal Story - experience your own fairy tale!    
Royal Story is a fairy-tale browsergame in which you can lead your own kingdom to a new flowering as a prince or princess.    
Even though you play noble personalities here - Royal Story is actually a classic farming game, in which you manage fields, construct buildings, keep cute animals and grow the right ingredients for your quests. Unlike other farms, however, you'll also find cute baby dragons and the rare baby Hippocamp in your stables.    
Set the necessary production chains in motion and continue writing the history of your kingdom, so that in the end you can hold a new, exciting storybook in your hands.   
From king's tower to horse stables - expand your kingdom    
There's plenty going on around your castle. You can use, for example:   
Materials like wood, clay or straw but also plates and tea kettles animals like chicks, dragons, unicorns, cows and rabbits.
Machines like the bread oven, the beehive and the coffee machine.
Also construct fantastic buildings like the Royal Tower, the Town Hall and the Horse Stables to develop not only your castle but also the surrounding kingdom and get better yields.
The valuable rubies accelerate your achievements in the task chains, but they are very rare.
Tips and Tricks for Royal Story    
Let yourself be inspired by the enchanting world in Royal Story and go on a discovery tour. But be careful - even in this idyllic fairytale world, dangers lurk for you and your kingdom:    
Gradually discover more and more adjacent areas like Dragon Country and get to know your neighbors like the mysterious Elf King from Utopia.
Use the Mystic Garden to get rare products like gold nuggets and magic dust by sending one of your minions on this trade mission.  When little imps called minions appear, you'll have to fight them off.
Now let's go to the fairyland! Play Royal Story online for free at KibaGames!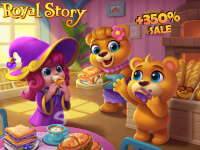 Royal Story
Originalname:
Game Hits:
903
Online since:
01.
09. 2021
Developer: