Farmerama
Approved for all ages
Farmerama - lead your farm to success!    
Farmerama is an exciting browser game in which you can manage your own small farm and expand it into a flourishing large farm with all the trimmings and a tidy profit through clever actions and wise decisions.    
After all, even though you'll care for a lot of cute animals and beautiful plants in the game, in the end the money will have to fit when you offer your goods on the market and buy new seeds and fertilizers.    
You like the country life, but also like to explore the flair of an exotic island? Then Farmerama is the right game for you!    
How to play Farmerama    
In Farmerama you can prove your special management skills and level up by collecting experience points.    
To become a successful farmer or an admired farmer, you can familiarize yourself with the game principle in a tutorial at the beginning of the free business simulation. Then it's time to get started:     
Build stables for your horses, cows and pigs.
Create arable land and plant your seeds in the fields.  Breed the most beautiful and productive animals.
Trade your produce at the market in this free farming game.
The marketplace is also where you traditionally meet your neighbors. Interaction and community are writ large in Farmerama! There is a lively community in this free social game. Find new friends and exchange ideas with them about the most beautiful and helpful animals and the most beautiful gardens.    
Make friends with them in Farmerama so that you can collect experience points together or manage extra cultivation areas like the "Wild Meadow".  You can also give them gifts or write letters to maintain relationships.  Simply place the gift decorations in your garden, which you open to visitors.    
Tips and tricks: how to colonize the island of Bahamarama    
The fun in Bigpoint's successful browser game is not limited to farm life. Once you've made your farm a success and your neighbors envy your fields, you can try out your farming skills on the remote island of Bahamarama with its monkeys, elephants and rare snakes!    
You can unlock this expansion for Farmerama at the Tree of Wisdom for 50 stars.    
The exotic island is a paradise for all game monkeys, Kiba and Kumba are already there! You can be especially happy about the new currency "Golden Bananas". You get five of the valuable bananas per level, which you can use to unlock new plants, animal stables or cultivation areas in the monkey temple.    
Explore the ancient island of Bahamarama, learn its secrets and wonders.
Learn new skills in the Bahamarama skill tree.
Grow some exotic plants as well.  You can also breed a variety of bizarre animals that only exist on this island and discover the crazy games on Bahamarama during your adventures.
Let's go! Experience a lot of fun while farming and play Farmerama free online at KibaGames now!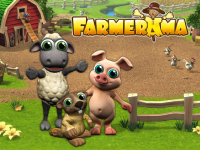 Farmerama
Originalname:
Game Hits:
70
Online since:
01.
01. 2021
Developer: