Charm Farm
Approved for Ages 6+
Charm Farm - Welcome to the enchanted forest, magician!     
Charm Farm is an imaginative browsergame in which you'll be able to rebuild the village of the little Shmoo in an enchanted forest, which was destroyed after the attack of the evil wizard Garp.    
The little blue creatures have been waiting for you for a very long time! Now is your chance to turn this tiny village into an incredibly beautiful land full of magic! However, you won't be alone in this mission - the good fairy Kaja and other creatures of the forest will also be at your side. They will help you with every task and you can also use your magic on them to make them complete their duties faster!    
Many other colorful characters await you in Charm Farm, dozens of magical creatures, hundreds of magnificent buildings and magical structures, thousands of fun quests and missions, and, of course, lots of magic and sorcery!     
How to play Charm Farm    
Rebuild the village using various resources and the labor of its inhabitants. And beware, the evil wizard Garp is still around. Can you protect your new friends in Charm Farm from him?    
solve quests and master exciting missions
generate mana from special plants like magic hat and belladonna and use the scarce resource strategically
also gold, which you can win from the houses of the Shmoo, is needed for your construction activities
let the Shmoos work for you - the more Shmoo houses you build, the more villagers you can take into your service  use rubies for animal companions from the Enchanted Forest
Magical hand-drawn storybook scenes and high-quality animations create a very appealing game environment. Play here together with your friends, because the magical building game can be played in multiplayer. Experience a very special gaming experience together and celebrate your successes in the enchanted forest.     
Play Charm Farm online for free on Kibagames!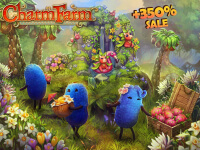 Charm Farm
Originalname:
Game Hits:
31
Online since:
02.
07. 2020
Developer: