Fall Friends
Approved for Ages 6+
Fall Friends - a race with knockout system!
Fall Friends is a fast-paced jump and run game in which you want to reach the finish line before all the other players.
Your task is to run and jump to the finish with your burly character, avoiding lots of obstacles. Be careful not to get knocked off the track by the competition, because then you'll fall behind the pack quite a bit. Following a knockout system, Fall Friends will eliminate competitors round by round to determine who is the best!
In the first, second and third level you should not be among the last four players, so rush across the finish line quickly. Similar to the hit game Fall Guys, this can look pretty funny with your soft padded doll! At least the blob-like figures are well protected against obstacles and falls due to their squishiness.
Controls: You control with WASD or arrow keys and jump with the space bar. On the mobile device, you hold down the screen to run and indicate the direction. When you tap, your character jumps. With the money you earn per completed round, you can unlock a random new skin for every 300 coins.
More exciting minigames for you
If you liked Fall Friends, why not play Stickman Planks Fall?
Fight your way to the top and play Fall Friends free online on KibaGames!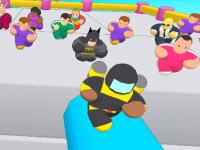 Fall Friends
Originalname:
Game Hits:
0
Online since:
06.
12. 2022
Developer: