Worm Hunt: Snake Game IO Zone
Approved for Ages 12+
Worm Hunt: Snake Game IO Zone - the last worm wins!
Worm Hunt: Snake Game IO Zone is a new multiplayer game where you can grow the biggest and strongest worm among worms!
In this Battle Royale game, several worms are placed in a confined space and they are all mighty hungry! Naturally, each one wants to claim the biggest piece of food in order to grow and dominate the field. Gradually, however, the field is reduced in Worm Hunt: Snake Game IO Zone. A five-second countdown shows you when this happens, and the field that disappears also lights up red. So hurry away!
How to play Worm Hunt: Snake Game IO Zone
Control your worm with the mouse and accelerate with the space bar.
If you are in danger, flee to the safe area and continue eating there.
Don't get too close to the edge, because not only the other predators are a danger, but also your surroundings.
On the field itself, there are all kinds of treats, but also power ups that give you protection or make you magnetic, for example, so that everything in the vicinity is drawn to you as if by magic.
Tips and tricks to survive for a long time
When you're not searching for food in the earth pit, you can improve your worm in the main menu.
There is a skill tree that grants you different abilities that you can buy with coins.
With the beginner skill "Gluttony", you lose less weight when you are in the red zone.
With the ability "Radioman", you are granted a larger view of the map.
Each worm here has a different skill tree with different advantages that can be unlocked.
You can also play through daily and weekly tasks or themed events, for which you are rewarded with coins or gems.
More free worm games and snake games
If you liked Worm Hunt: Snake Game Io Zone, why not also play Worms Zone or Wormate.io?
Let the colourful snake eat and grow now and play Worm Hunt: Snake Game IO Zone free online on KibaGames!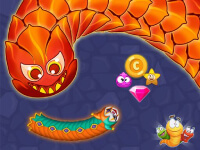 Worm Hunt: Snake Game IO Zone
Originalname:
Game Hits:
0
Online since:
21.
10. 2022
Developer: