Snake Island 3D
Approved for Ages 6+
Snake Island 3D - Conquer the snake island!

Snake Island 3D is an exciting multiplayer game in which you have to eat delicious fruit as a snake and survive until the end.

You start as a snake and have to move around the different islands with your mouse or finger. Each level offers a different environment and different fruits. Let your snake eat fruits like bananas or oranges and try to get as long as possible within the given time. Avoid touching the other snakes on the playing field. If one of the other snakes bumps into your snake, it will dissolve and release all the fruit it has eaten. This is great extra food for you!

At the end of a level in Snake Island 3D, you get diamonds and coins for your achievements. You can buy more snakes with the coins. When you combine them, you get a new snake with the head and features of another animal. How about a cheetah, a panda, a corgie or a shark in the shape of a snake? In any case, the little snake animals look very funny.

The more animals you have in the main menu, the more coins you get from them. Because these animals automatically collect coins, no matter whether you are playing a level or taking a break. The higher the merging level of the individual animals, the more coins they generate. For diamonds, you can directly buy an animal that you have already unlocked through merging, thus expanding your pool of valuable game characters.
More io-multiplayer with voracious snake
If you liked Snake Island 3D, you should also try Worm Hunt: Snake Game or Worms Zone.
Now it's time to eat! Fight your way across the playing field with lots of cute animals and play Snake Island 3D free online on KibaGames!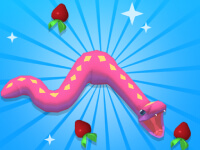 Snake Island 3D
Originalname:
Game Hits:
0
Online since:
06.
02. 2023
Developer: