GhostFight.io
Approved for Ages 6+
GhostFight.io - fight with a little ghost!
GhostFight.io is a cool io. game where you can float to a new high score with a little ghost.
Use the mouse, arrow keys or tap and swipe on screens to steer your little ghost across the playing field. Collect the glowing soul points there and compete against the other ghosts. If there is a battle, the ghost with the most soul points wins and can add to them.
GhostFight.io also plays over "several days", which means that there is a round time and when it expires, a new day starts after a short break. The high score is therefore also pushed by the fact that you survive as many days as possible.
Play your way to the top of the highscore list in this scary and beautiful online game and get stronger and stronger! Use different ghosts and unlock new characters in the store. You can also use different boosters like the boots, the magnet or the shield to become even faster, attract more energy or protect yourself against the other ghosts.
Who is the strongest ghost in the graveyard? Find out now and play GhostFight.io free online on KibaGames!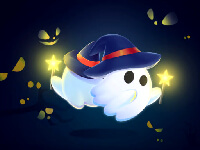 GhostFight.io
Originalname:
Game Hits:
0
Online since:
28.
07. 2022
Developer: