Stickman Planks Fall
Approved for all ages
Stickman Planks Fall - win the challenge with wooden planks!
Stickman Planks Fall is a cool jump and run game where you can race with other stickmen and collect and use lots of wooden planks.
Run and control with WASD, the mouse or by swiping. Collect the beams on the race track and also use them to build shortcuts across the open space next to the track. Attention, you must also have collected the right number of planks! Avoid obstacles or wait for the right moment to avoid the many dangers. Of course, your Stickman should not fall off the track!
Reach the finish line first and deliver as many planks as possible. You'll always have to decide whether speed or safety is more important to you.
Then prove your skills in different leagues and compete on the course against characters like the Noob, the Pro, the Hacker or the God. But you can also make your own stick figure look even more stylish with different T-shirts and caps.
More online games for popular apps
If you liked Stickman Planks Fall, why not play Tallman Run or Money Rush?
Make your best way now and play Stickman Planks Fall free online on KibaGames!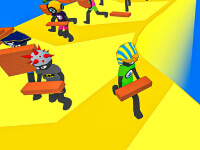 Stickman Planks Fall
Originalname:
Game Hits:
0
Online since:
06.
09. 2022
Developer: