Semi Truck Snow Simulator
Approved for Ages 6+
Semi Truck Snow Simulator - Drive over snowy roads!
Semi Truck Snow Simulator is a winter truck game in which you'll be able to drive a 40 ton truck carefully through snowy terrain.
The track is rough and difficult, the paths are narrow and the ups and downs are another chicane. So all your skills are needed here and all your feeling while driving. The way is shown to you on the roadsides thanks to yellow road signs, so you can't get lost. At the beginning, the route is still short, but with higher levels, the route also becomes longer and more difficult. Of course, you have to pay special attention in the curves!
Controls: You control the game with WASD or arrow keys.
Per completed level you get coins, which you can use for a second truck model. Even with the second truck, face all the challenges on the snow-covered roads and reach the finish line with patience.
More exciting off-road games
If you liked Semi Truck Snow Simulator, why don't you play Ultimate Offroad?
Can you brave ice and snow behind the wheel? Find out now and play Semi Truck Snow Simulator online for free on KibaGames!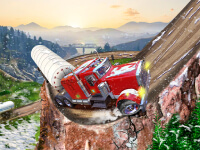 Semi Truck Snow Simulator
Originalname:
Game Hits:
0
Online since:
29.
12. 2022
Developer: