Ultimate Offroad
Approved for all ages
Ultimate Offroad - driving fun with all-wheel drive!
Ultimate Offroad is a cool 3D racing game in which you'll be able to master a lot of off-road missions with heavy off-road vehicles.
Steer through the rough terrain with the arrow keys, brake with the space bar and choose the appropriate 4x4 off-road vehicle for each mission. Ford Ranger or Jeep Wrangler - which off-road vehicle will win the race in Ultimate Offroad?
All-wheel drive and front-wheel drive offer more possibilities than the usual street cars or sports cars. So overcome any number of obstacles, climb over boulders, drive through mud or beautiful open grassy areas.
Tip: With Z and the mouse you can also throw out a steel rope and hang on a slope and pull yourself up. Be brave and pull yourself out of the swamp this way, too, by accelerating with C again. Then remove the hook again with X or the hook symbol.
Switch the front wheel drive to four wheel drive with Shift on occasion.
Don't miss this new off-road game with heavy trucks and play Ultimate Offroad free online on KibaGames!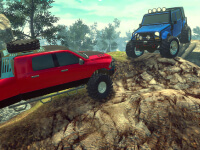 Ultimate Offroad
Originalname:
Game Hits:
0
Online since:
15.
09. 2022
Developer: