Truck Space
Approved for all ages
Truck Space - Park the truck on the construction site!
Truck Space is an exciting parking game in which you can skillfully drive and park a large truck through narrow construction site roads.
Navigate across large construction sites in numerous levels and park your truck perfectly within three minutes. Are you up to the challenge? You control the game with the keyboard or your finger. On the PC you simply control with WASD and on the smartphone there are icons for pedals and brakes that you can simply tap. The faster you can park your truck, the more stars you get. Also get great Achievements for points, completed levels and stars.
More great truck games for you
If you liked Truck Space, then why not play City Construction Simulator.
Park like a real construction worker now and play Truck Space free online on KibaGames!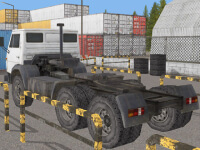 Truck Space
Originalname:
Game Hits:
0
Online since:
06.
04. 2023
Developer: