Rabbids Volcano Panic
Approved for Ages 6+
Rabbids Volcano Panic - save the rabbit from the lava!
Rabbids Volcano Panic is a fun multiplayer game in which you can save your panicky rabbit from a volcanic eruption.
The island in the South Seas where Rabbit Gang lives is being rocked by a volcanic eruption! Quickly get your long-eared Rabbit to safety and control him with the mouse, arrow keys, WASD or by swiping over the platforms above the volcano, which are slowly collapsing in pieces under the Rabbit. Your goal is to be the last Rabbid to survive, or at least to get a good rank and avoid falling into the lava under the platforms for as long as possible.
Watch your shadow when landing and react quickly depending on whether you land. Hot playfield elements will make your bunny jump and holes will naturally make him fall one level lower.
However, 15 other players are planning to do exactly the same thing, so be careful not to get pushed into the lava by a panicked bunny.
Despite the disaster, quickly collect all the golden coins and don't miss the power ups like the springs or the hoverboard that heals platform elements. With your winnings you can buy fun costumes and stand out even more from your competitors in the next rounds of the game. Quickly conquer the leaderboard and pick up your daily rewards too!
Watch out, the ground is lava! Get your bunny to safety now and play the latest Ubisoft Nano game Rabbids Volcano Panic free online on KibaGames!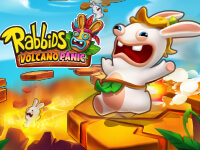 Rabbids Volcano Panic
Originalname:
Game Hits:
0
Online since:
11.
04. 2022
Developer: