Penalty Challenge Multiplayer
Approved for Ages 12+
Penalty Challenge Multiplayer - penalty shootout for two!
Penalty Challenge Multiplayer is a cool soccer game where you can practice your penalty shooting skills against real opponents!
In this multiplayer it's all about who has the better nerves in penalty shootouts. You can play online or against the PC. Choose your team from a total of 32 teams and then take turns to see who scores the most goals. First you shoot.
To do this, swipe your mouse or finger in the direction you want the ball to go. Make sure that the ball doesn't go over the goal or that the goalkeeper catches it. Then it's your turn as the goalkeeper. Move the mouse or your finger to where you think your opponent will shoot the ball. Each team gets to shoot at the goal five times and hold the ball five times.
More penalty games for you
If you liked Penalty Challenge Multiplayer, try Real Football Challenge.
Score as many goals as possible and play Penalty Challenge Multiplayer free online on KibaGames!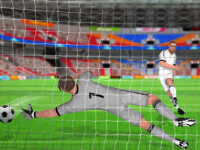 Penalty Challenge Multiplayer
Originalname:
Game Hits:
0
Online since:
13.
03. 2023
Developer: