Police Car Simulator 2020
Approved for Ages 6+
Police Car Simulator 2020 - protect your city!
Police Car Simulator 2020 is an action-packed car game in which you'll be able to drive through the city and countryside in a police car and handle a lot of missions.
Play either in the countryside, where you can even go off-road, or make your rounds in a big city. Use WASD or the arrow keys to steer and the space bar to pull the handbrake. In this way you can also perform sick stunts and make the police car skid. Press F to ignite the booster and H to make the siren wail. Fill up your tank regularly and make sure that you don't run out of life hearts due to too many crashes.
In Police Car Simulator 2020 you even have a total of 9 different emergency vehicles at your disposal, which are adapted to the different tasks of the police. Simply change them with the keys 1-9. Speed controls, chasing criminals or transporting prisoners are just as much the task of the police as recording accidents or regulating traffic. In the city, the sheriff sometimes has even more to do than in the country. Let the tires squeal and drive as fast as you can through the heavy traffic to the scene.
Attention, future law enforcement officers! Start the blue light now and play Police Car Simulator 2020 free online on KibaGames!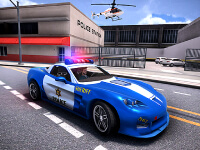 Police Car Simulator 2020
Originalname:
Game Hits:
0
Online since:
02.
06. 2022
Developer: