Electro Cop 3D
Approved for Ages 12+
Electro Cop 3D - chase bank robbers on a jet ski!
Electro Cop 3D is an exciting police game in which you'll be able to chase and arrest bank robbers on a jet ski.
The robbers have robbed a bank and are fleeing across the water! Your task as a police officer is now to get on a police jet ski and start the chase! By the way, your officer looks a bit like the good old Robocop from the action classic of the same name.
Use the keyboard or mouse to steer and dodge the obstacles that get in your way. This can be a sign or a barrier, for example, so be careful which path you take. Trampolines, on the other hand, can give you an advantage.
Remple the bandits so that they fall into the water and can be arrested. Along the way, collect the money the bank robbers have lost and get to your destination safely to defeat the bandits! Maybe you can even set a new speed record?
More cool police games for you
If you liked Electro Cop 3D, you should also try Police Pursuit 2.
Lots of action and hot chases are waiting for you! Play Electro Cop 3D online for free on KibaGames!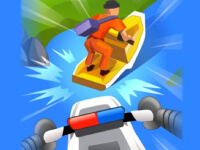 Electro Cop 3D
Originalname:
Game Hits:
0
Online since:
10.
02. 2023
Developer: