Papa's Taco Mia
Approved for all ages
Papa's Taco Mia - prepare Mexican dumplings!
Papa's Taco Mia is a cool management game from the popular Papa series, in which you'll be able to manage a taco store this time.
To start, choose your male or female character again and complete a tutorial that will show you everything you need to know. Then fill the crispy Mexican dumplings with cheese, onions, tomatoes, peppers, jalapenos and many other tasty ingredients. Prepare well-seasoned meat and toast the tacos to the proper browning level.
Sounds delicious, doesn't it? Show your guests how well you can prepare the tacos and manage the restaurant to Papa Louie's satisfaction.
How to play Papa's Taco Mia
In the kitchens of Papa's Taco Mia you are a waiter and a cook in one.
Work your way through three stations:
Order Station: take your orders here.
Grill: grill the meat for your tacos here.
Build Station: prepare the fillings here and use the right sauces.
Drag the order slip onto a line when you've taken your orders. When you take them down from the line, you have to process them and then you can serve the delicious dishes. Manage the rush of your guests through this system and earn points by satisfying your customers.
Tips and tricks for the best tacos in town
Running a taco restaurant like this is a real challenge. You have to pay attention to a lot of things, but preparing meat and dumplings isn't that hard with a little practice. Advance from novice to professional chef through your experience and make a tidy profit in the process:
Pay attention to the temperature ring when frying the meat and also turn the filling once.
If something doesn't turn out so well, you can simply throw your failure in the trash and start all over again.
Particularly good service and proper preparation will bring you not only good daily earnings but also tips, so work extra reliably.
More free Papa's games for hardworking cooks
If you liked Papa's Taco Mia, then play Papa's Freezeria, Papa's Pizzeria and Papa's Cheeseria.
Now get to the dough and sauces! Play Papa's Taco Mia free online on KibaGames!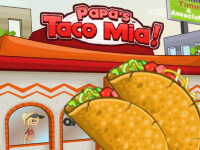 Papa's Taco Mia
Originalname:
Game Hits:
1.396
Online since:
01.
02. 2023
Developer: