Papa's Cheeseria
Approved for all ages
Papa's Cheeseria - sell the most delicious cheese sandwiches!
Paps's Cheeseria is a great management game from the popular Papa Louie game series, in which you can run a successful cheese sandwich store!
Whether it's cheddar, gouda or delicious processed cheese with ham - all kinds of cheese from all over the world look great on a sandwich. Word has spread that Papa Louie's restaurants offers the best cheese sandwiches, and every day many new guests enter your store to place their order.
Serve the customers in Papa's Cheeseria as fast as you can, manage your time and divide your steps wisely. Find the balance between customer orders and cheese sandwich preparation to satisfy as many customers as possible. Let's go make sandwiches!
How to play Papa's Cheeseria
At the beginning, you can choose or create your own game character. Then you have to work through several stages on the way to the finished dish:
Take orders.
Select the type of bread.
Select the cheese and other ingredients and sauces.
Toasting the sandwich.
Preparing the French fries.
Serve.
Little by little, you can earn a large repertoire of ingredients that will make your cheese sandwiches the most sought-after in the whole neighborhood. Spicy barbecue sauce or mild tomato sauce? Fiery hot peppers or spicy olives?
Fulfill any customer request and prepare sandwiches in no time.
Tips and tricks for the best melt
Leave no stone unturned and prepare the best Grilled Cheese Sandwiches at Papa's Cheeseria:
Use the kitchen gauges: For example, the Flip-O-Meter tells you when to flip the sandwich.
Collect recipes and request special daily specials like Cordon Bleu or Grilled Cheesesteak.
Buy upgrades for the store like new candy machines and a music system to attract even more customers.
More free restaurant games for Papa Louie fans
If you want to make more great dishes, why not play Papa's Pizzeria and bake some delicious pizza!
Now get to work on that cheese! Play Papa's Cheeseria free online on KibaGames!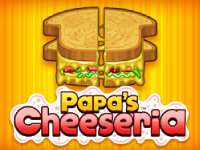 Papa's Cheeseria
Originalname:
Game Hits:
1.583
Online since:
01.
02. 2023
Developer: