Papa's Freezeria
Approved for all ages
Papa's Freezeria - become the best ice cream seller!
Papa's Freezeria is a popular management game where you can create delicious ice cream shakes all day long!
Where can I play Papa's Freezeria? On KibaGames of course! In this classic game from the popular Papa's series, you start as a waitress in a small ice cream parlour and work your way up the ladder. You'll have to fill lots of wafers and cups with delicious ice cream.
How to play Papa's Freezeria
The following tasks await you at four stations in Papa's Freezeria:
At the folder station, you take the customer's order.
At the build station you have to fill the cups with the right ice cream shake mixture.
At the mixing station, as the name suggests, the shakes are mixed thoroughly.
At the top station, you can decorate the finished ice cream shakes with delicious toppings such as sugar balls or coconut flakes.
That sounds good, doesn't it? If you've always wanted to run your own ice cream parlour and spoil your guests with the latest trends from the world of gelato, KibaGames is the place for you!
Let summer come - rock your ice cream parlour!
What seems easy at the beginning becomes more and more difficult. More and more customers with more and more unusual requests require a lot of multitasking talent in Papa's Freezeria. But as a shrewd service worker, you can certainly make the shop work. The more customers you serve and the more perfect your ice cream shake creation is, the more points and money you will receive at the end of the day.  
You can use your salary and tips to buy improvements for your shop. For example, a few fancy decorations will make customers wait longer, and a door chime will alert you when new customers enter the shop.  
More great games with Papa Louie for you
If you want to use your talent for Italian gastronomy and cooking games in other skill games, why not play Papa's Pizzeria or Papa's Cheeseria?
But now let's get to work on those ice cream cones! Bring the creamy sweetness to the customers and play Papa's Freezeria free online on KibaGames, as always without registration and without download!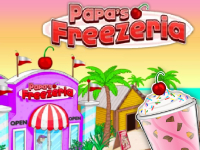 Papa's Freezeria
Originalname:
Game Hits:
4.868
Online since:
02.
02. 2023
Developer: