Papa's Pizzeria
Approved for all ages
Papa's Pizzeria - bake the most delicious pizzas!
Papa's Pizzeria is a cool management game where you can prove yourself as a pizza maker and manage your own pizzeria.
Papa's Pizzeria is now available in HTML5 again, after the old Flash version had to be deactivated. Feel free to use the mobile version of the popular Papa's game now!
Pizza is one of the most popular dishes, especially among children, and is actually quick to prepare. You just need some dough, tomato sauce with spices and cheese and you can offer a delicious pizza margarita. In Papa's Pizzeria you'll also have a large number of delicious toppings at your disposal, which are sure to go down well with your customers.
Now that Papa Louie has left the store to you, so he can take care of his many other snacks, it's your job to fulfill your customers' wishes and make the pizzeria a success. So fire up the oven and get going! Advance from delivery boy or girl to manager and offer the best pizza in the whole city!
How to play Papa's Pizzeria
Use four stations to make pizza:
At the order station you take the orders.
At the topping station, you'll top the dough blanks that a colleague has prepared.
Bake up to four pizzas at once at the baking station.
Cut the pizzas at the cutting station.
Drag the order slips onto a line to keep them in view. When you want to process an order, you can drag the slip to the area next to your countertop.
Then top the pizza with the required ingredients such as mushrooms, pepperoni, tuna and peppers, let it cook in the oven until it reaches the desired browning level and cut it into the ordered number of pieces.
Tips and tricks for a lot of profit
In Papa's Pizzeria, the most important thing is good time management so that the traditional Italian dishes succeed and Papa's restaurant makes a profit.
Take orders and order pizzas while the other dough is baking in the oven.
If you're extra fast, you'll get more tips, too.
Work your way up from newbie to pizza pro by honing your skills, equipping your store better and better to attract even more customers.
More free management games with different offers
If you liked Papa's Pizzeria, why not play  Papa's Taco Mia or Papa's Freezeria?
Now get to the dough and cheese! Play Papa's Pizzeria free online on KibaGames!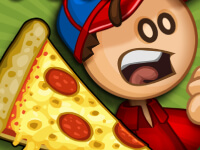 Papa's Pizzeria
Originalname:
Game Hits:
7.331
Online since:
11.
08. 2021
Developer: