Might & Magic Armies
Approved for Ages 6+
Might & Magic Armies - fight with magic and a strong army!
Might & Magic Armies is an exciting fighting game based on the well-known role-playing game, in which you'll be able to lead your army into battle under the leadership of 12 magical heroes.
Update: there are now four new heroes and a new treasure feature available to you! 
Compete against other players in a medieval setting and fight as part of one of four factions. Magic curses are already quite good for fighting, but conventional soldiers and knights from 16 recruitable units also go into battle. Proceed strategically and use three possible formations to achieve victory with your troops.
Controls: M&M is played with the mouse and keyboard. With the spacebar you can ride faster. 
This new strategy game from the Ubisoft Nano series is based on the computer game Might & Magic, which has been played since the 1980s and now also delights its fans as a free game for PC and smartphone.
Cast spells again and let the sword do the talking and play Might & Magic Armies free online on KibaGames!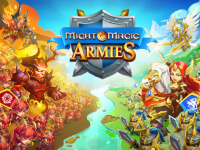 Might & Magic Armies
Originalname:
Game Hits:
0
Online since:
04.
04. 2022
Developer: