Inferno Meltdown
Approved for all ages
Inferno Meltdown - put out any fire in more than 20 levels!
Inferno Meltdown is a level-based skill game in which you'll be able to fight numerous fires.
Controls: Move the fireman with the arrow keys or WASD and use the mouse to operate the water hose. Aim at the burning spots and extinguish the fire before it can cause great destruction. Keep moving to a new position so that your firefighter can reach all the embers and burning spots. If you can't reach the source of the fire, it's also useful to wet the areas around the fire to contain it.
Earn money with it, which you can use to upgrade your firefighter and equip him better. Also, the coins you can collect at the scene will help you get even better. Then upgrade the firefighter's power and speed and the size of his water tank. You can also increase the force with which the water is pushed out of the hose. This way, the water jet becomes even more effective and can be used in a more targeted way.
In higher levels, some power ups will also help you fight fires and you'll be able to achieve valuable achievements.
Extinguish any fire with a good strategy in this new firefighting game and play Firefighter 2 free online on KibaGames!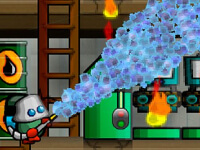 Inferno Meltdown
Originalname:
Game Hits:
338
Online since:
12.
03. 2022
Developer: