Brawlhalla Grand Slam
Approved for Ages 6+
Brawlhalla Grand Slam - fight in a vertical arena!
Brawlhalla Grand Slam is an exciting fighting game where you can take on 42 different Brawlhalla legends against tough opponents in a vertical arena.
Face epic battles in Battle Royale mode and jump from wall to wall using the mouse or by tapping, holding and releasing. Your goal is to take out all the enemy fighters by jumping near them and within range of your weapon. A total of five playable weapon types with different strengths and abilities are available to you. Use their individual range, power and special effects to take down your seven opponents.
Unlock 24 outfits for your warriors and always be the last one standing!
In this second game of the Ubisoft Nano series, you can expect lots of action and epic battles with the popular Brawlhalla legends! Pick up your sword now and play Brawlhalla Grand Slam free online on KibaGames!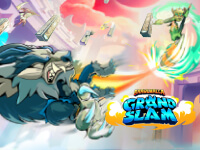 Brawlhalla Grand Slam
Originalname:
Game Hits:
0
Online since:
28.
02. 2022
Developer: