All-Star Blast!
Approved for Ages 6+
All-Star Blast! - fight in Battle Royal mode!
All-Star Blast! is a cool Bomberman game that lets you go into battle royale with many different Ubisoft characters.
Play with one of 20 legendary heroes like Raymond, Sam Fisher from Splinter Cell, Ezio from Assassin's Creed or Fenyx from Fenyx Rising and fight against 99 other players. This multiplayer offers you a total of five game environments in which you can eagerly plant bombs and use power ups for even stronger explosions or for your protection. Play All-Star Blast! with the arrow keys or WASD and place the bombs with the space bar. You can also use the mouse to play. With your winnings you can always upgrade your character and quickly start the next round.
Let's go! Don't miss out on this explosive action game from the Ubisoft Nano series and play All-Star Blast! online for free on KibaGames!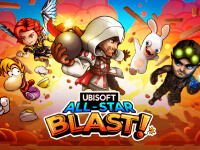 All-Star Blast!
Originalname:
Game Hits:
0
Online since:
28.
03. 2022
Developer: