Word Search: Emoji Edition
Approved for all ages
Word Search: Emoji Edition - A crossword puzzle with smileys!
Word Search: Emoji Edition is a fun puzzle game in which you can search and find emoji combination instead of words on a grid.
Similar to a crossword puzzle, here you can find the combinations you are looking for hidden vertically, horizontally or diagonally on the playing field. The emoji sequences you have to find in different levels are displayed at the bottom and crossed out after you find them. Move the search box to the side sometimes! Watch out for the time limit and spot all the series you are looking for before the time runs out. Mark them with the mouse or your finger.
It's best to use easy-to-recognize emojis like the red anger emoji or the crying emoji with the blue tears. Then look at which of the yellow symbols are arranged around them and whether there is a match to the emoji sequence you are looking for. This is not so easy! Look carefully, concentrate, and systematically search the grid game area.
More hidden object games with great themes
If you liked Word Search: Emoji Edition, why not play Match Tile 3D?
Take a break from your daily routine and play Word Search: Emoji Edition online for free on KibaGames!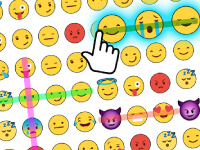 Word Search: Emoji Edition
Originalname:
Game Hits:
0
Online since:
26.
05. 2023
Developer: