Hidden Cats: Detective Agency
Approved for all ages
Hidden Cats: Detective Agency - find all the kitties!
Hidden Cats: Detective Agency is a cute hidden object game in which you have to find different cats in the streets of Asia!
Detective Faye runs the "Carrot Detective Studio", named after her cat Carrot. Her latest mission is to find numerous cats in the streets of different Asian countries, such as China or Japan.
Controls: You play with your finger or the mouse. Click anywhere and hold the button to move the image and see other areas. If you think you see a cat, just click on it. There are no penalty points. You can use the magnifying glass to get clues.
Help Faye and Carrot find the different cats in the hidden object pictures. The cute and naughty cats hide everywhere and like to leave traces with their paws, which you can also collect. Sometimes the animals sleep hidden in bookshelves or behind oranges in shop windows. Every now and then you have to push a human or an object aside to find the kittens. The nimble animals are also true climbers, so you should not only look on the ground for purring kittens, but also sometimes look up in the air. For successfully completed levels you get coins, with which you can equip your detective agency. In some levels you play not only against time, but also against competing cat detectives.
More cute hidden object games for you
If you liked Hidden Cats: Detective Agency, why not play Paddington and join the little bear on his adventures.
Can you solve the tasks successfully? Go on a quest now and play Hidden Cats: Detective Agency free online at KibaGames!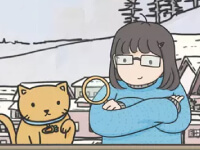 Hidden Cats: Detective Agency
Originalname:
Game Hits:
0
Online since:
19.
02. 2023
Developer: