Match Tile 3D
Approved for all ages
Match Tile 3D - find three identical objects!
Match Tile 3D is an exciting puzzle game in which you can pick out trios from any number of objects scattered in a large pile across the playing field.
The many different objects are scattered all over the playing field. Some have also fallen over and are lying upside down. Can you still recognize them and click on all three of the same objects?
Orientate yourself by shapes and colors and find toys, animals, sweets or emojis. Sometimes you have to combine the same objects that only differ in colors and patterns. After you have clicked or tapped on the things, they end up in the collection bar at the bottom. All three of the same tiles must be placed there for you to be able to remove them from the game, but the order doesn't matter. So always keep enough space free and don't collect items just like that.
If you can clean up especially fast, you'll win extra points. Unlock new themes like space, chemistry or sports and let yourself be surprised by the beautiful 3D effects. Also use boosters like a magnifying glass that can automatically match three tiles.
Fans of hidden object games will also love this search and find game! Play Match Tile 3D free online now on KibaGames!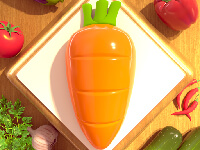 Match Tile 3D
Originalname:
Game Hits:
0
Online since:
01.
08. 2022
Developer: