Trap Craft
Approved for Ages 12+
Trap Craft - fight against the pixel zombies!
Trap Craft is an exciting tower defense action game in Minecraft look, in which you'll be able to take on a zombie army with familiar characters from Noob vs. Pro.
The hacker Entity 303 presents Princess, Noob, Pro, Herobrine, Foxy and all the other heroes with an exciting task: defend a portal in a dungeon from new hordes of zombies over and over again and receive a free wish as a reward: Make a wish!
For each of the characters there is an individual story with its own ending. Of course, make sure you don't run out of lives and use your magic and weapons strategically. You may know the game principle of defending levels from Orcs Must Die! 3.
How to play Trap Craft
Choose your character and place various traps in front of the onrushing zombies, just like in a classic defense game. Move your character through the cube world with WASD or the green move button and play along with cute pets for extra fun.
Place traps like sharp spikes or poisonous liquids with drag and drop.
Use weapons like bow and arrow or sword to go straight at the zombies with the buttons on the right.
You can also activate other boosters like the sword wielder.
You can use mana energy with the purple button.
Collect your rewards from the treasure chests after a successfully repelled zombie wave.
Tips and tricks - how to survive in Cube World
In higher levels you will encounter more enemies in this dungeon. Even dragons are involved! Prepare yourself well and strengthen your fighting skills.
As a real Minecrafter, use your winnings to build new weapons and traps in pixel look.
Get help from the animals and even a golem, which bring more skills, mana and lives.
More exciting online games about Minecraft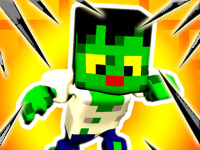 Trap Craft
Originalname:
Game Hits:
0
Online since:
17.
05. 2022
Developer: