Minecraft Classic
Approved for Ages 6+
Minecraft Classic - build the most beautiful blocks!
Minecraft Classic is the original version of the famous Minecraft game, in which you can create your own pixel world from 32 different blocks.
Play Minecraft Classic for free in the browser with buttons and mouse and design the open world according to your own ideas. With wood, sand, stones and many other raw materials, you can soon build your first buildings in the popular retro look.
Like a child in a sandbox, you can start small and soon build your first real houses. Or are you more in the mood for cars, animals or even your own fairytale castle plus secret dragon dungeon? Brick by brick, the well-known building block principle is transferred to the digital world and gives you the opportunity to build your own fantasy worlds.
How to play Minecraft Classic
Start in a rural environment with meadows, trees and the sea and go in search of the best raw materials. You can also find materials for your activities underwater, but then you'll have to find or build a way back to land.
Move with WASD.
Use the left mouse button to mine the resources in front of you and collect them at the bottom of your building materials bar.
Use the mouse wheel to select resources and position them with the right mouse button. Then click the left mouse button again to actually line up the pixel blocks and build many beautiful buildings.
You have a total of 32 different blocks at your disposal.
Tips and tricks - play Minecraft Free with up to 9 friends!
Form a team of up to 9 teammates to build your own Minecraft world.
Invite up to 9 friends to play together. Community and the joy of creative design are at the forefront of Minecraft Classic.
In this first version from 2009, you won't encounter any tools or enemies, but you'll be able to have lots of fun building and simply create your own worlds in peace and quiet.
Even without a spade, you can concentrate entirely on your own creativity and choose between three different level sizes: small, medium and large level worlds offer enough space for any idea.
More retro games in pixel look
If you feel like a little more action after building, then play Dungeon Craft and take on some nasty monsters.
Let's go! Don't miss this first version of the famous multiplayer sandbox game and play Minecraft Classic free online on Kibagames!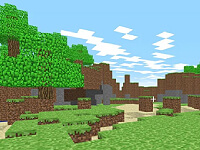 Minecraft Classic
Originalname:
Game Hits:
833
Online since:
16.
11. 2021
Developer: