Giant Rush!
Approved for Ages 12+
Giant Rush! - become a fighting giant!
Giant Rush! is an action-packed arcade game in which you collect other stickmen of your color on your journey to grow bigger and bigger yourself and face epic battles.
Similar to the kaiju monsters Godzilla or King Kong, in Giant Rush! you'll have to face another powerful giant opponent at the end of each level. You control your character there with your mouse or finger, moving it back and forth to collect other stickmen or wins on the track in front of you.
Then, when it comes to the monster showdown, you can quickly click the left mouse button. If you're fighting a royal boss, you'll have to dodge first and attack later. So more tactics are needed here. Swipe back and forth with your mouse or finger to dodge. After a victory, kick the beaten giant opponent a bit further over a winning scale to collect even more points.
But there's also plenty of fun to be had in Giant Rush! Customize your stickman with hats you can collect during your adventures, shoes you can trade in for diamonds, and other battle animations. You can also use your diamonds to level up the giant before a duel. This way he can go bigger from the start and put more power into his kicks.
If you collect the correct colors especially often, your giant can level up and reach Rage mode. Then it doesn't matter what you collect on the track, as the Giant itself will glow in rainbow colors and quickly sprint the track to the boss.
More free Rush Games for you
If you liked Giant Rush!, why not play Money Rush or Tallman Run?
Are you a real giant? Go ahead and play Giant Rush! online for free on KibaGames!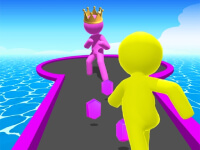 Giant Rush!
Originalname:
Game Hits:
0
Online since:
23.
09. 2022
Developer: