Noob Vs Pro 2: Jailbreak
Approved for Ages 12+
Noob Vs Pro 2: Jailbreak - escape from the pixel prison!
Noob Vs Pro 2: Jailbreak is a fun adventure game where you can break out of the pixel prison with the Noob and level up to Pro in the process.
The Noob wants to break out of the Minecraft-style prison and needs your help to do so. Control him in his underground lore to freedom and upgrade your character from beginner to pro. With each run you can continue to the new track record and collect more valuable equipment or kill zombies. Exploding TNT also gives you extra points and earns you money, which you can then use for upgrades or new fuel. Upgrade the noob or pro in the garage to make his vehicle's engine more efficient or buy him a crossbow or sword for defense.
Controls: screen button or space bar. You can use the arrow keys to balance.
Can you master the escape from the dungeon like a real pro? Find out now and play Noob Vs Pro 2: Jailbreak free online on KibaGames!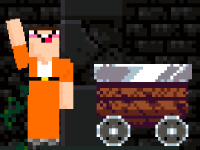 Noob Vs Pro 2: Jailbreak
Originalname:
Game Hits:
0
Online since:
25.
04. 2022
Developer: