SUV Snow Driving 3D
Approved for all ages
SUV Snow Driving 3D - Driving fun in the snow!
SUV Snow Driving 3D is a winter racing game in which you can drive over impassable, snow-covered roads!
An SUV with four-wheel drive can show off all its strengths in winter! Play through 15 levels where you can brave the harsh weather conditions and drive through various checkpoints to the finish.
Use WASD or the arrow keys to steer. Keep an eye on your vehicle's life meter and the time you have left to reach the finish line. Try to cross the finish line as quickly as possible to get the highest score for your driving skills. For passing levels in SUV Snow Driving 3D, you receive game money that you can use to buy another SUV. Always face new challenges in the great outdoors and on numerous country roads! In free mode, you can drive around without a destination, wherever the icy roads may take you. However, keep an eye on your life meter here to experience as much driving fun in the snow as possible for as long as possible.
More car games for winter
If you liked SUV Snow Driving 3D, why not play Heavy Jeep Winter Driving?
Whether it's black ice or powder snow, with good hand-eye coordination you can master all challenges. Play SUV Snow Driving 3D free online at KibaGames and drive through an exciting winter landscape!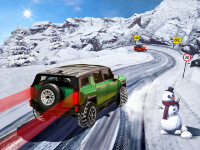 SUV Snow Driving 3D
Originalname:
Game Hits:
0
Online since:
12.
01. 2023
Developer: