Rabbids Wild Race
Approved for Ages 6+
Rabbids Wild Race - let the bunnies fly jetpack!
Rabbids Wild Race is a fun jump and run game in which you can make the white Volcano Panic bunnies fly around with a jetpack.
The Rabbids are at it again! These crazy rabbit-like creatures now want to compete to see who can fly the farthest along a course filled with dangers. The white creatures have strapped a jetpack to their slender shoulders and are now racing to see who can beat them. Run, jump and fly through the course past electric obstacles and enemy Rabbids who want to grill your furry character with flamethrowers!
Use the mouse to control the Rabbids or swipe and tap. If you don't press the left mouse button, your Rabbid will run, but if you tap it or the screen briefly, your Rabbid will briefly jump up in the air. The longer you hold down the left mouse button or screen, the higher he flies! So try to avoid the dangers on land or in the air and get as many meters behind you as possible. Sometimes there are conveyor belts in the air. Pay attention to their direction of travel. They can give you an advantage, but also a considerable disadvantage if you land on one that runs in the opposite direction. Also collect coins during your runs. You can use them to customize your Rabbid by buying him different headgear, accessories or clothes. Compete with players worldwide in this fast-paced game and see if you can beat your opponents.
More exciting Ubisoft Nano games with well-known hero characters.
If you enjoyed Rabbids Wild Race, why not play Rabbids Volcano Panic and All Star Blast?
Face a fast-paced new race now and play Rabbids Wild Race free online on KibaGames!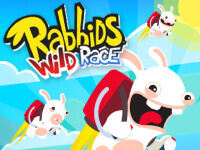 Rabbids Wild Race
Originalname:
Game Hits:
0
Online since:
12.
10. 2022
Developer: