Marble Puzzle Blast
Approved for all ages
Marble Puzzle Blast - Free the butterflies!
Marble Puzzle Blast is a new Zuma game where you can form chains of balls to free butterflies!
Shoot the butterfly in the center of the playfield at the colored balls and connect the same colored balls together to form long ball chains. Combine at least three to make them dissolve. Your goal is to take all the marbles out of the game, earn points for it and prevent them from rolling into the hole in the center. Complete the levels within the time limit to get special rewards.
If you click on the butterfly, you can swap the next two balls it can shoot and get an advantage. Some balls also have special properties. For example, the balls can run backwards on the track instead of forwards, or the movement is stopped. Also, there are missiles that you can randomly shoot at other balls.
Use the joker balls
Also use joker balls like the bomb, the rainbow bomb and the fireball. The bomb blasts away the bullets it is fired at. The rainbow bomb takes all the balls of the same color with it and the fireball burns the balls in the surrounding area. You can get these wild cards by using extra long ball chains. From time to time there are also bubbles with butterflies between the balls. You have to clear the balls in front of them so that they can roll to the butterfly in the middle and thus be freed!
More interesting Zuma games for you
If you liked Marble Puzzle Blast, why not play Ludibubbles?
And now let's go for it! Play Marble Puzzle Blast free online on KibaGames!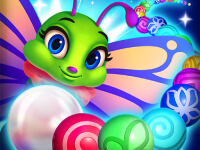 Marble Puzzle Blast
Originalname:
Game Hits:
0
Online since:
18.
03. 2023
Developer: