Marble Dash
Approved for all ages
Marble Dash - fun with marbles in ancient Egypt!
Marble Dash is an exciting Zuma game in which you travel through ancient Egypt shooting at a variety of marble chains!
Take on a new Zuma challenge in the mystical setting of the ancient civilization! To do this, you must connect balls of the same color to clear them and prevent them from rolling into the hole in the center of the playing field. Some balls are already connected or frozen and must first be freed. You can do this by shooting balls of the same color with your cannonball. Some bullets can also stop running or even run backwards, while many combos can give you a bomb as a power-up. You can fire these at the marbles to clear multiple marbles at once. Good moves will definitely be rewarded! So, what are you waiting for?
More Zuma games for you
If you liked Marble Dash, why not try Marble Puzzle Blast?
Now let the balls roll again and play Marble Dash free online at KibaGames!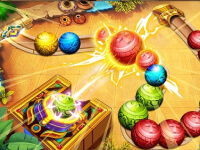 Marble Dash
Originalname:
Game Hits:
0
Online since:
14.
05. 2023
Developer: