Dunk Shot
Approved for all ages
Dunk Shot - Shoot baskets for a new high score!
Dunk Shot is a hip skill game in which you can shoot a basketball from basket to basket and set a new high score!
Play with the best throwing technique and aim as well as you can at the endless row of basketball baskets that grow into the sky above you. Dunk Shot requires special precision and patience, because once you miss a basket, you have to start all over again. Play as long as you can within the time limit and shoot as many baskets as possible. With the collected stars you can unlock great new balls in bright colors, with animal motifs and even a soccer. And you can also find new background designs in the "Customize" menu.
Hit every basket now and show us your best shots in Dunk Shot!
How to play Dunk Shot
Click or tap on the baskets where the basketball is placed and align the aiming device. Release the mouse button to dunk the ball into the next basket.
Shoot as many baskets as possible to get a new high score.
Stay within the time limit and aim quickly, but also accurately.
Collect the stars that are in different baskets.
Unlock nice new balls that you can pay for with your stars.
Tips and tricks for great shots
Use all the features of the game to land numerous hits in Dunk Shot.
Play over boards to score extra high baskets.
Red boards behind a basket stop your ball and can give you an advantage.
Use the treasure chests to unlock five stars in a row in the next baskets.
If you miss the next basket, you can start all over again or be lucky enough to have the ball fall back into the initial basket and continue playing.
More free basketball games for avid sports fans
If you liked Dunk Shot, why not play City Dunk?
Now get on the basketball court! Let the balls fly and play Dunk Shot free online on KibaGames!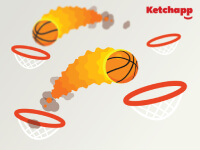 Dunk Shot
Originalname:
Game Hits:
169
Online since:
08.
07. 2022
Developer: