Hoops Champ 3D
Approved for all ages
Hoops Champ 3D - a basketball game for long time fun!
Hoops Champ 3D is a cool sports game in which you can shoot baskets with the basketball in over 200 levels.
Aim with the mouse or tap and shoot the basketball into the baskets in front of you. In each level you only have a limited number of balls available, so aim as accurately as possible. If your aiming line appears yellow, the ball will come up in front of the board, and that's desirable, of course. If it turns purple, you'll have to watch out, because then you'll throw too far!
Hoops Champ 3D also holds numerous other challenges and opportunities. Some basketball hoops will split the ball into many small balls that can then hit the other hoops. Other targets, on the other hand, will move, so you'll have to figure out the right time to shoot. Then collect lots of points with good throws, dunk for all you're worth and advance to the next level. You can unlock more balls as you go, and even throw a soccer or baseball at the basket.
Over 200 levels hold many chances for real basketball champions! Play Hoops Champ 3D free online now on KibaGames!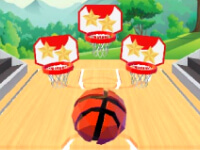 Hoops Champ 3D
Originalname:
Game Hits:
0
Online since:
27.
06. 2022
Developer: