Jump Dunk
Approved for all ages
Jump Dunk - hit the red cups!
Jump Dunk is a fun basketball game where you can throw balls into red cups while jumping on a trampoline.
Jump up and down on the trampoline automatically and throw the ball at the red cups by clicking or tapping at the right moment. Play alone at first to train and then face your opponents in more levels. The levels get more extensive and complicated as you progress - Jump Dunk becomes a real challenge!
At the beginning you throw only at one red cup, then at several and later you will even find towers with TNT. Tear down the tower and play the red cup into an area where you can hit it. Moving mugs to be hit alternately by you and your opponent also become targets. The cups are also staggered in higher levels. Here, it is recommended that you target the cup that is furthest forward from a low point in the jump. The cup that is furthest up or away should then be aimed at the highest point in the jump. Test out what works best. After five levels there is always a boss fight. After ten levels and two boss fights, the playing field even changes and you can play through a beach level.
More free basketball games
If you liked Jump Dunk, why not play Basket Champ?
Experience a lot of fun in this different kind of sports game and play Jump Dunk free online on KibaGames!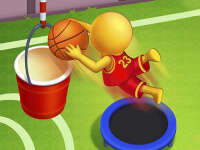 Jump Dunk
Originalname:
Game Hits:
0
Online since:
03.
10. 2022
Developer: