Become A Referee
Approved for all ages
Become A Referee - Evaluate real game situations!
Become A Referee is an innovative sports game in which you can prove your refereeing skills using real video sequences.
How well do you know the rules of soccer? Test your soccer knowledge in practice with ten real video clips! You will be shown videos of moves and situations and have to recognize whether the referee has made the right decision at this point. If you are unsure, you can use the "VAR" button, this is the video evidence tool. Is the referee whistling correctly? Is that really a penalty or a free kick?
More football games for you
If you liked Become A Referee, then play Goalkeeper Wiz.
Can you judge all situations on the pitch correctly? Find out now if you are a good referee and play the referee video quiz for free online on KibaGames!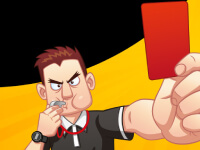 Become A Referee
Originalname:
Game Hits:
0
Online since:
05.
12. 2022
Developer: