Goalkeeper Wiz
Approved for all ages
Goalkeeper Wiz - stop balls as a goalkeeper!
Goalkeeper Wiz is an exciting soccer game in which you, as the goalkeeper, will be able to stop all the shots on your goal.
Do you have the nerve to hold all the balls and help your team to victory? This time you'll be up close and personal. From the first-person point of view, the goal is to hold as many balls as possible in the penalty shootout. Use the mouse to move the gloves to the spot in the goal that you think the opponent is aiming at. Whenever you can avoid a goal, your team will score a goal for it. If you stop a lot of balls, you will win the game.
After each victory you get money for successfully advancing in the tournament. For this money you can choose new skins for your gloves. With more experience, you'll have more teams to play for in Goalkeeper Wiz. Visually, a bar shows you the approximate area that will be shot at. But will it be a high ball or a low one? This is where your ability to react quickly is needed.
More free soccer games
If you like Goalkeeper Wiz, why don't you play Penalty Kick Wiz!
Keep your box clean now and play Goalkeeper Wiz free online on KibaGames!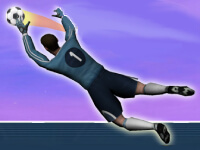 Goalkeeper Wiz
Originalname:
Game Hits:
0
Online since:
17.
11. 2022
Developer: