Archery King
Approved for Ages 12+
Archery King - test your archery skills!
Archery King is a cool sports game in which you can practice archery and even invite friends to play together.
Robin Hood was yesterday, now it's your turn! Grab your bow and arrow and prove your skills in sport archery. Hold down the left mouse button and aim with patience. When your bow is fully cocked, release the button and an arrow will fly into its target. In Archery King, adjust to the weather conditions and always look at the bottom left to see how strong the wind is blowing and in which direction it is blowing.
On your smartphone or tablet, tap and hold the screen, then swipe so that the ring of the bow is pointing at the target. Then let go to shoot the arrow. It's best not to tap exactly on the target, otherwise you won't see where you're aiming.
Tips and tricks for duels with bow and arrow
You can also play Archery King against your friends! Create a room and tell your friends to join you.
You can always fit two people in the lobby of a shared room.
Once you have found each other, the game starts. You take turns shooting, and whoever scores the most points emerges from the duel as the archery king. Of course, this calls for a rematch, so play another round!
While it's your turn, you can also earn bonus points by shooting especially fast.
More free sports games
If you liked Archery King, why not play Archery World Tour?
Let the arrows hit the bull's eye now and play Archery King free online on KibaGames!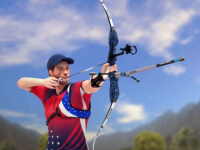 Archery King
Originalname:
Game Hits:
0
Online since:
30.
09. 2022
Developer: