Archery
Approved for all ages
Archery - Win with bow and arrow!
Archery is an exciting sports game in which you'll be able to train your archery skills.
Let's go to the archery range! Hold down your mouse or finger to draw the bow, aim it and release to shoot. But beware, the wind will affect your arrow and its trajectory! Adapt the intended trajectory to all adversities. Later, there will be more challenges, such as shooting balloons. There are also moving targets to hit in Archery.
Play in Archery in two modes: Level and Endless. In Endless mode, you have three lives at your disposal, which are displayed at the bottom left. In the level mode you'll have five arrows at your disposal, with which you'll have to achieve the minimum number of points to advance.
Of course, your aim must be rewarded. Earn play money with good shots and buy more skins for your bow.
More archery games for you
If you liked Archery, why not play Archery World Tour?
Let's go! Let the arrows fly now and play Archery free online on KibaGames!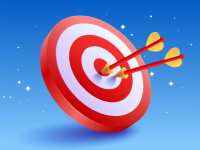 Archery
Originalname:
Game Hits:
11
Online since:
25.
11. 2022
Developer: