18 Wheeler Cargo Simulator
Approved for all ages
18 Wheeler Cargo Simulator - deliver cargo in a giant truck!
18 Wheeler Cargo Simulator is a cool truck game in which you can transport valuable cargo through grandiose landscapes in a giant truck.
Many important goods are driven across the country in giant trucks and the more goods that can be transported in one trip, the better. Sometimes trucks even have to drive off-road, for example when old barrels have to be taken to a hazardous waste dump. Can you successfully steer the 18 wheeler in this driving game to its destination?
Use the arrow keys to steer the truck and the space bar to apply the handbrake. Successfully play through numerous levels, complete the required delivery tasks and bag a good paycheck. Some jobs can only be completed with special trucks with a certain number of axles, which you have to unlock first. Earn more money by accepting more difficult cargo loads.
Now get in the driver's seat! Drive the longest trucks in this new simulation game and play 18 Wheeler Cargo Simulator free online on KibaGames!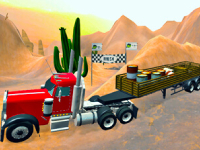 18 Wheeler Cargo Simulator
Originalname:
Game Hits:
450
Online since:
16.
09. 2021
Developer: