World Cup Fever
Approved for all ages
World Cup Fever - Three players fight for the title!
World Cup Fever is a fast-paced sports game in which you can play with three soccer players for the World Cup.
In World Cup Fever you can fight for the world championship title yourself! Choose the country you want to represent in the World Cup and create your team. If you can't decide, you have the option to go to "Random Select". In this case, you will be randomly assigned a team. Then play in several rounds with your three players against those of the other team.
Controls: You control the game with the mouse or your finger. You let your players slide across the field similar to air field hockey. Drag the mouse in the direction you want to move the players and try to make them kick the ball. Score as many goals as possible in this way to get further and further to the final and become the world champion!
More free soccer games for real experts on the ball
If you liked World Cup Fever, why not test your soccer knowledge in the Become A Referee video quiz!
Your favorite team has already been eliminated in Qatar? It doesn't matter, they can still win here! Play World Cup Fever online for free on KibaGames!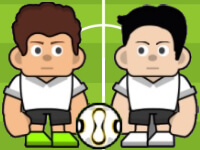 World Cup Fever
Originalname:
Game Hits:
18
Online since:
12.
12. 2022
Developer: